Well this was a big doctor week and a big Heroclix week. I'm going to start with saying I'm super proud of myself for all the walking I've been doing. I hit my goal of 7k steps a day, every day except one – but I did do over 5k that day. I also blew it out of the park one day and was almost at 10k – so it evened out over the week. I often struggle to get the steps in on the weekend if I don't have plans and leave the house. But once I'm out, it's easy to get off the bus early or walk before getting on the bus.

I'm glad that I'm already walking like this though because it's one of the things the doctor recommended and she was happy when I told her I was already doing it. She also wants me to reduce my sodium because my blood pressure is trending a little high. She wants me to monitor at home where I can be more relaxed and maybe not as anxious as I feel in her office and go back in a few weeks. I'm really hoping that I can cut out enough sodium to naturally lower it so I don't have to go on meds. While there she also did a pap test (results can take a few months she said) and gave me my tetanus booster – I can't remember ever having one since I've been out of school.

I also had a therapy session this week. Most of the time we were talking about working on protecting my own mental health. I'm noticing that I'm feeling like a sponge for the emotions of those around me. I could start the day at a anxiety level low and it easily climbs if someone is really anxious around me. Similar for feeling low if someone around me is depressed. It's a hard struggle to find that balance of being a good friend and wanting to be there and help if I can but also prevent myself from absorbing.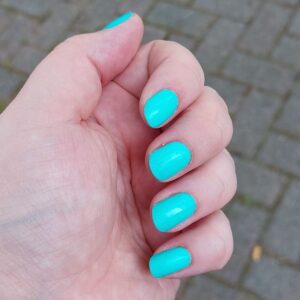 For the side biz this week, I'm participating in an online vendor event. There are SO many amazing vendors showcasing their products. Everything from kitchen items (Tupperware, Sunset Gourmet foods, Pampered Chef, Epicure), beauty (Park Lane Jewelry, Color Street, Gel Moment, Beauty Counter), home goods (Scentsy, Partylight, Norwex), clothing (Silver Icing, Sweetlegs), crafting (Chalk Couture, Stampin Up) and other random ones (Usborne books, hand-crafted items, Legalshield). Come check us all out, play some games, enter raffles and have fun! Oh, and I also put on a new mani – a nice neon from the 90's collection. I wanted to try something bright for a change and this certainly didn't disappoint! Now I'm just deciding if I want to add some kind of an overlay or tip on it. Decisions!   
This was a great Heroclix weekend. It started Friday night when I got home from work. Brad does his Friday evening Cash Bash events online and the stars aligned for me to play. I was home from work on time, my kiddo went to a friends house, my bro was playing an online game in his room and I actually had a team I wanted to try out. I'm sort of playing around with things to see what I might want to play for Worlds in September. For this team, I was wanting to play full point prime The Vision from the new D+ set. Jay helped me tweak it to potentially beat a Thanos team (that I never did end up facing), but I did end up going 2-1 and came in 4th! Brad did a quick interview with me after the event and I'll update the post here with the link when it goes up. 
Saturday I met Aden and Rory and Kipling and out to Brampton we went. We were playing D+ sealed. I pulled a chase Loki and finally pulled a Miss Minutes! Put them together for a Past theme team with a couple more Loki's. As usual, I was still figuring out what all my team does, but by the end of the day I had it smooth and ended up winning the event. After the event I met up with Jay for dinner and we swapped some figures at the same time. 
Sunday I met Aden and Jaden again at Kipling and this time was to go out to Mississauga. We met a few hours early though so we could play some Pokemon Go for the event that was going on. That was fun to do with friends – I've not really done much of that since I first started playing. As for my Heroclix team for this D+ sealed, I didn't get any crazy pulls this time, but I did have some great synergy with another theme team, this time Celebrity. I somehow also won this event and this time I didn't lose even 1 figure in any match and only gave up 5 points each game. I think my favorite point was when I made Amber laugh uncontrollably when I outwitted her Carter's Invincible while she was on her special defense… "She doesn't have Invincible showing…" as I'm going in for a Flurry. 
This was certainly a great social weekend with lots of great conversations, hugs, laughs and just an all round good time. I do wish that our local store would start up playing again so travel wasn't quite so far, but I'm so grateful for amazing friends who are always willing to help me get to where play is happening when they're able to. 
That's me this week! 
Until next time, xoxo