Well the COVID cases are starting to inch up a little more and more here in Ontario. 1/4 of the cases for the province are in Toronto.  The R number is also slowly moving up.  There's no talk of shutting down again that I've heard, but at least I'm accumulating hours again in case that happens as we go into fall/winter.  I'm doing everything I can to stay social distanced and continue to wear my mask whenever around anyone.  
This was a therapy week. It felt like the hour went by so fast this time. I'm glad that I'm sticking with it and having someone impartial to talk things out with and help remind me that so much of my anxiety are things that are out of my control and so much of it is overthinking about the unknown.  So much of my life right now is hinging on unknowns and I'm finding it super stressful and anxiety causing.  As much as I know that it's mostly out of my hands, it still affects me so much. 
This week started with a long weekend – Simcoe Day. I actually took the day off work as we're paid the stat day for it. Being an office worker, I was able to do that. I have always worked all holidays, but I knew I was caught up on work and the accountant from the other location was taking it off, so I figured I may as well too. It was nice having an extra day at home and made this week feel like it went by really fast!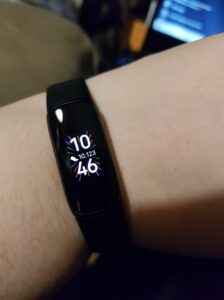 I'm now on day 16 of daily yoga and day 24 of daily walking (excluding the very odd rest day). I can't believe that I've been consistent with getting up early to do the yoga before work and then walking every day after work.  One day, my dad came to pick me up at work and I knew it was happening, so I even woke up even earlier and walked before work as well, so I wouldn't miss doing it that day.  When I first got my fitbit, I was doing maybe 3k steps when I didn't do anything different. I doubled that and have been doing 6-7k every day. Friday I went over 10k for the first time! My body sure felt it when I got home that night and still felt it Saturday.  I woke feeling so bloated, swollen and with a terrible headache. I ended up declaring it a rest day (the first one since I've started this) and just hydrated, rested and got tylenol on board. Sunday I picked back up and hit play on the yoga again and I feel great.  My body needed that 1 rest day – I'm glad I listened to it. 

My sleep has been pretty good!  I do still have some anxiety as I'm winding down – my mind likes to race on me and I find it really hard to settle down.  But the CBD is very much helping with that and not long after I take it, it really helps me feel exhausted and ready to pass out.  Other than the weekend, I've been doing really well at being asleep by about 12:30 and I wake around 7, so I've got the time to do the yoga, make my lunch and get ready to leave for work at 8:15. 
I FINALLY added SSL security to my site here! It's something I've been thinking about for a long while but just never did. It's pretty expensive to add through my host, Godaddy. I was looking around to see if I could use a 3rd party one (I was finding some for just $3-$10/year), but unfortunately it's not supported by the type of account I have with them.  Because I use a managed account – basically they load what I buy for me (my wordpress), I have to use their stuff. If I need it, I have the most support with this plan – but so far I've not needed to call for anything and have just figured stuff out for myself. 
 
I'm super excited for tomorrow! Color Street launches in Canada and I'll be signing up.  I can't wait to get my kit and get going.  It's felt like a really long month of not having the side biz to work on.  I'm glad I had a few sheets of strips to play around with in the down time though.  I've got a list going of people wanting samples when my kit arrives and I'm starting to address envelopes so I can get them out quickly when it arrives.  If you're reading this and would like to try a sample for free, feel free to reach out to me! 
That's me this week. Time to crash so I can wake early and keep up the routine!  I hope you're all hanging in there and doing self care things to take care of you. 
Until next time, xoxo