Did you know you could play Heroclix online? People have been using a site called roll20 to play. I first tried it almost a year ago practicing with Sam and didn't really use it much after that. A few months ago I started doing some practice with more people to get more of a feel for it because the ROC started running some tournaments on it. It's really neat! You upload pictures of your pieces and use them for a representation of your team. There is a dice roller in the room and you connect with voice to your opponent on discord. This last weekend there was a online ROC Qualifier and it was on a day that I had available so I decided to sign up and try my hand at an online tournament for the first time.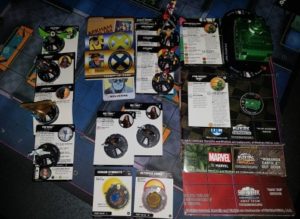 I decided to play a tweaked version of my prime Vulture team that I played at one of the WKOs. This version has prime Vulture, Unseen, Big Tony x2, Lockjaw, The Rose, Pym Tank, Octopus Arms, Symbiote and ID cards. I lose map every round.
Round 1 I faced Brad. He was playing the Tylor monster team with Mini Shredder, Giganto & Namor x2, Groot x2 and some other retal and ID cards. He puts us on the underground map. He moves up a little with sidesteps and brings the Whales and Mini a little closer. I sidestep up and equip. He comes in with the Whales and misses with his Quake attacks. Mini sidesteps to ping Unseen. I outwit one of the whales Invincible, perplex up Vulture to a 14/4 and start my first Charge attacking his Walking Wood giving me 1 Charge built up and put my 2nd attack on the Whale that's outwitted, putting him on his stop click. I use that built up Charge to kill the whale, giving me another Charge built up and use my 2nd attack from the Flurry on the other whale. I move away from that Whale and Mini and start towards his side of the map to get the retal and thankfully he's got Walking Woods along the way to get me there. He only gets 1 Shape Change between all 4 Walking Woods. So I build up 2 more charges as I make my way to the Groots and other retal. Thankfully I have enough Charges built up that I'm able to make my way back to the other Whale by breaking a wall on my way back over, finish him off and hit Mini 3 times, getting him to last click. He does a call in and is able to kill Unseen and a Big Tony between the attack and ping. Next turn I punch with the other Big Tony, needing a 10 and I have 2 probs on it and manage to hit one of those 10's, taking out the Mini. That makes the call in poof and he's left with only a Walking Wood and being a zero point pog, that ends the game.
Round 2 was against Nate. He was playing a really creative and funky team with Grandmaster, Flora x5, Skyscraper Wonder Women x2, Groot x2, Starfox, Mangog and the Iceberg Lounge map bonus. Turn 1 he grabs his Symbiote with Skyscraper WW and brings it back to Starfox who equips and he has a Puffin come steal my Symbiote. I equip Ock arms, perplex up Vultures defense and brace for what I know is about to happen. He brings up Grandmaster. Brings forward a WW and walking wood. He makes my Vulture attack his Puffin with Grandmaster. Brings Mangog over to retal and I'm glad I have Unseen to make the attack lower. I don't remember what all he hit with it. I think the Big Tonys? My games are meshing together in my head, especially this one because we faced twice. He's got his Mangog in my starting area so he promotes to his 150 point line. My turn I had Unseen outwit the Shape Change on the walking wood and Charged over to him and the WW, storing 2 Charges. That took me over to Grandmaster and got him. That got me to his back row to all the Floras and out they all went. I had built up 3 Charges at one point and would you believe I got not 1 but 2 crit misses in a row?! We double checked with the judge to see when I had to click my dial and it was immediately before using the other built up Charges, so that changed my stat values, but I still pretty much got his team, including the Jean he'd called in to TK up Grandmaster. Now I just needed to deal with finishing off Starfox and Mangog. I pick pulsewave with Lockjaw which kills Starfox and gets Mangog off his Invincible. I called out Cyclops and get him to his side of the map for the Psychic Blast to get thru his Impervious. I think this is the turn where he got a crit miss and called in the Flash Trouble Alert. I did 2 damage to him and then he rolled and killed himself the next turn. I don't remember if it was another Cyclops call in or the Wolverine call in, but I also got the Mangog and won with over 500 points and he got almost 100 points of my team.
Round 3 was against Lucas. He was playing a team I'm very familiar with from what I used to play. Sam Cap, Clone Shredder, Wiz Kid, Overdrive, Carnage, Surtur, Mangog and ID's. He makes his Charged up and comes up carrying Sam, Clone and Wiz Kid. Sam Perplexes Lockjaws defense down and then calls in Harley to Energy Explode my clumped up group, targeting Lockjaw who's in the center. He rolls a 7, which would hit everyone adjacent. I prob it and he rolls a 6, he hits Lockjaw, Big Tony, Unseen but misses Vulture thanks to his perplexed up defense from the Big Tony's. I miss the Super Sense roll on Unseen. This makes both Unseen and Lockjaw double tokened. He Side Steps in with Clone to ping Unseen, Lockjaw and Vulture. (I had forgotten who he called in with Sam so I messaged Lucas and he reminded me of that first turn and in his words, the next step before he passed turn was "pray" lol). With my call in people both double tokened, no Harley for me this turn to perplex up Vulture. I used the Big Tony's to perplex the attack twice. Unseen outwits Sam's reflexes. I have Vulture literally fly with his Charge into the center of the mix. I start with Overdrive for my first attack which banks me my first Charge, then Overdrive to get the 2nd banked. Flurry on Wiz Kid to take him out. Flurry on Sam to take her out. With my built up Charge I move Vulture away from the rest of my team in fear of the retal coming. I think this is the point that both of us could only roll 3's. Literally at least 6 rolls in a row between us. I end up being able to take out his Surtur and he ends up wiping my team with call ins and Shredder Clone pings. My only loss of the day.
Round 4 was with Hunter (Brett). He was playing a team of Foot Elites (I think there were 5 of them) with Overdrive x2, Skeets, Jessica Jones, Karen Page, Groot and Ape Batman pog. Turn 1 he makes his Charged Up pogs and Side Steps back because he's nervous of me being able to get him if he steps out. I do my usual equipping and Perplexing Vulture's defense. I also remember Leslie Evans and use my 4th action to bring him forward to be ready to Outwit when he's close to me next turn. My moving Leslie Evans up made it that he could get close enough to turn off my Stealth with Jessica. He Side Stepped with his Foot Elites and took off opportunity tokens to make free attacks. He targeted my Unseen and I managed to roll my Super Senses on every attack he made. I perplexed up Vulture to 14/4 and went through his whole team in one go. He was curious how many pieces I killed in 1 turn so we worked it out that he had 14 pieces on his team in total that I got. It would have been much more difficult if his alpha had hit any of my characters.
Top 4, I'm going in 2nd seed. My game in top 4 is a re-match with Nate and his Grandmaster team. This time he uses a Puffin to steal my Symbiote again and he uses the other one to stand in front of my Octopus Arms. This time I choose to move up to his Puffin with Unseen because he has a zero attack and damage value. Then I didn't realize the Puffins were tiny and I could have still TK'd the Octopus Arms over him, so I shot him with The Rose so I could get the Ock Arms to Vulture. This allowed him to still come over and Mangog my team. He kept the rest of his team back this time though so I couldn't chain a ladder back to them and had to instead creep up slower to make it over. I did that with Side Steps over the next 2 turns and then I was in striking distance. I chewed through all the colossals, pogs and Grandmaster again. I didn't manage to KO the promoted Mangog or the Starfox this time, but I had the points to win when time was called.
Top 2! I can't believe I made it to the top table! My opponent is Joe and he's playing the Hawkeye Avengers team with Starfox, Old Man Cap, Eric Masterson and a whole bunch of Giant Girls. He puts us on Amok Time and on his first turn he chooses to call in Cyclops to blow up my Symbiote. I didn't realize at the time that he didn't equip his Hawkeye on turn 1. I got my Ock Arms equipped and Side Stepped up, positioning my team behind the little bit of blocking there, in an attempt to make him over extend to see me and have to put perplexes into movement or range instead of attack or damage. His turn he just equips Hawkeye and sidesteps a Giant Girl carrying Eric Masterson into row 5. I carefully counted my squares and realized that between my potential 2nd sidestep, perplexes and TK, I could get to his Eric Masterson. Big Tony's perplex my attack once and damage once. I have Lockjaw TK Vulture up. I sidestep Vulture and roll to see if I get the 2nd sidestep and I do! Unseen calls in Harley and this means that my Harley perplexes can go into attack instead of movement. This gets me to a 14/4. I make my way to Eric Masterson and KO him. Then I move over to Giant Girls to build up some Charges. I take most of them out (even with getting some crit misses again) building up a whole bunch of attacks and then get to the Hawkeye and take him out, then Old Man Cap, then Starfox. His whole team went down in the one shot and I walked away with my very first Qualifier win!
I really enjoyed playing this team. The guys were all amazing, fun and kind opponents. I love playing against new people and seeing how others play and what they do. I always learn something new when I play new people with different play styles. I'm definitely playing a version of this team for States/Provincials this weekend, but I'll be trying out a little tweak to the team with some suggestions that the guys mentioned when we were chatting between rounds.
Want to hear more? On Monday, Jason asked if I wanted to come on the Meta Lab to talk about my win. You can check that out here!
Until next time,
xoxo