This was the first week that masking requirement got lifted and made optional except for public transit, hospitals and long term care homes. I'm still wearing even at work and surprisingly a lot others are too. Most also had it on when I went to the grocery store too. I really thought that more people would just stop using them as soon as they could and was pleasantly surprised to see other people still doing it too. 

It's been a while since I've gotten some new subscribers so I was excited to get some emails that I got some new ones, both here and on YouTube. Thank you! I love that people are enjoying reading my journaling and I'm now one step closer on YouTube to getting to the point I can change my URL. It's been on my to-do list for a while now to get my next video edited and uploaded but I just haven't found the time to do it. 
I had a fun time this weekend playing clix with the kiddo. We played a sealed game both days of the weekend and still have teams built for 2 more games. We've been slow to play them with how crazy busy life has been for me lately, but I do want to get those 2 games we have left before the next set drops. We each won one game each this weekend. I put up a good fight in the one I lost and stayed alive longer than I thought I was going to be able to. My winning team was a pretty hard to KO team with 2xBlade with Spider-Man giving my team super senses on top of it. This weekend I also decided to email the game store about a pre-order I did 2 years ago and still isn't released. I haven't heard back yet, but I requested a refund as we have no idea if or when it will be coming. I want to use those funds towards the new set coming and if the WWE stuff ever does get released, then I'll just re-order it. 
This felt like a very long work week. I put in a whole lot of hours this week with two 13 hour days back to back. I was so glad to have the weekend pretty quiet with no obligations. I turned off my alarms, let myself stay in bed half the day to recharge and relax and only left the house for about an hour to meet a friend for a long overdue clix trade and then to the grocery store to pick up stuff for lunches.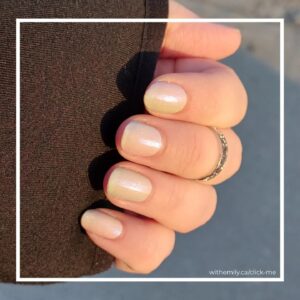 It was an exciting week for the side biz. It was new spring catalog launch – which means I went live to show my bundles, mailed out physical catalogs to those who requested them (I have lots left if you'd like one too, just let me know!) as well as a few orders of in stock product and mystery spring set purchases and did my first spring mani, How Do You Hue? It's a gorgeous shimmer that is almost opal looking and reminds me of the popular look right now of almost translucent milky white looking manis. Not typically a look I would go for, but I'm really liking it. This weekend I also have been playing around on Vistaprint. My mailing return address labels are almost done so I'm going to soon need another order. I also realized that some of the links on my business cards have changed and are no longer accurate. So I'm re-designing it to take out some of the cluttered long wording, condensing it all into just one link and adding a QR code for easy scanning. I was reluctant to add a QR code before, but now that people are more familiar with it from the vaccine passports, I feel like it's a good add now. I didn't place the order yet – I'm hoping for a coupon code to come in my mailbox. They send them so frequently, so ones bound to arrive soon. You know I'll show you the updated on when I get them!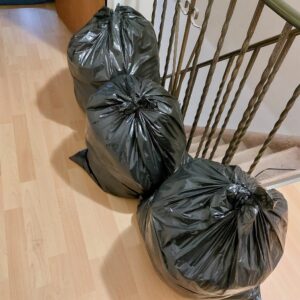 I did some spring cleaning decluttering this week. I got a call from a charity that was going to be in the area and asked for any clothing/small items for donation and I immediately said yes. I know others in the house wanted to get rid of some stuff too, so I knew even if I didn't have a lot to give away, that there would be more than just my stuff. I ended up being able to fill 3 big garbage bags of clothes that I haven't worn in years and if I had the energy I probably could have gotten more together. It feels so good to have stuff leaving the house and having another cleared out corner. My shelves were so stuffed full with stuff that hasn't been used and now there's space for stuff that actually does. 
With my mental health this week, I realized the feeling I was having was different than my usual anxiety. I was feeling quite an overwhelming feeling this week but it was was more stress feeling vs anxiety. I love that I am so in tune with how I'm feeling and I'm getting better at describing it and seeing the differences. It's still difficult to pull myself out of the strong emotions as I feel them, but my toolbox of things to try keeps growing. I can say that this week alone I've taken walks after work, relaxed in hot baths, put on music, took the quiet alone time I needed to recharge and stepped back from chores to allow myself to relax. Also in a step for helping my physical self too I've been really enjoying the fruit I've been bringing with my lunches and I'm trying to get more water in. 
That's me this week. I'm heading for another relaxing bath before I lay in bed and catch another episode of Bridgerton before sleeping. 
Until next time, xoxo