Hearing talk of another subvariant? I know it keeps mutating and trying to stay alive from those with immunity. I'm feeling fortunate to have remained uninfected yet. I hope that continues, even as more and more are going unmasked in group settings. I don't know when I'm going to feel comfortable taking my mask off in groups. 

More preparation for Canadian Nationals. I started the practicing this week still doing it with what we think the errata's might be – but to have to start over with a new team would be nerve wracking for someone like me who needs lots of practice to feel most comfortable that I'll do well. I started the week by getting another game in with Sam and had some good conversation around things to think about to keep in mind. The next day the announced the results of the watchlist and 2 of the pieces on my team did get changed with it – but the results of the watchlist and errata's made don't go into effect until July 11, the day after Canadian Nationals. So I get to play my pieces as written, with no changes and don't need to play how I did with Sam. I got a whole bunch more games in this weekend with Mike, Jay and David and I'm definitely enjoying the team more and more and learning little things I can do and different choices I can make. I'm still hoping to get some more games in this week in the evenings, but it may be a little hard because I have plans a few of the days after work already.  

Wednesday I got a call from my brother while I was at work. He started it with "don't be mad" and I thought shit. When he got home from the grocery store he noticed that there was water collecting in the ceiling of the living room and immediately went up to the bathroom where he discovered that the pipes under the sink were leaking. I gave a call to the neighbor who's been doing my renos to see if it's something he could look at. He met me after work and said he's got a guy and hopefully he'll be able to come in the next day or two. The underside of the sink is also rusting he noticed so we're going to switch out the whole thing and switch out the toilet while he's here. Our neighbor is super sweet and has both a sink/vanity and toilet that he's giving us. So for now we've got a bucket under to catch the drip and will turn off the water to the house when we go to bed. His guy was able to make it over on Friday (again, super sweet coming out on a holiday) and it was all changed out in a few hours and was done by the time I got home from work. I'm glad to have functional and in working order stuff until I can afford to have the whole bathroom reno'd. Funny thing, when they were removing the old toilet, they noticed a date stamped in it from when it was made – 1977! The toilet was older than I am! 
I am feeling really good about some house work I got done. Friday I started with the bathroom of course. It all needed a good deep cleaning of the new to us vanity and toilet because they were both pre-owned and quite dusty. There was also a layer of dirt from the work they did. Saturday I woke motivated to do some stuff – so I put all my laundry away. Then swept the floor both upstairs and downstairs. I also used a rubber brush on the carpeted stairs and I can't believe how much I got up from them, more than the vacuum usually gets. I finished with decluttering another corner and getting a bunch in a bag ready for donation and out of the house. I love the feeling of having a little more space.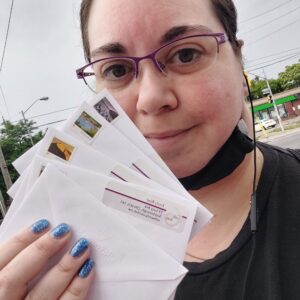 I got caught up with sending out thank you cards for purchases the last 2 weeks that I was a little delayed on sending out. I love sending out happy mail thank you's to brighten people's days and because I truly am so appreciative of each and every order that comes through my site or purchased from my inventory. I think I need to do an inventory blow out sale soon. I really have so much in it! I also wanted to mention that if you've ever thought of also joining and having a little side biz of your own, this month the kit is on sale! I have NEVER seen them reduce the kit price, so it's pretty exciting. For the cost of 2 B3G1, you can get the full kit that has, I think 13 or 14 full strips in it. a ton of accent nails and a bunch of other goodies. Great deal! I'm always here to answer questions if you want more information and know that I'm not pushy, just supportive. 
That's about it for me this week. I hope you all had a great long weekend and are happy and healthy. 
Until next time, xoxo