Just like last week, this week the positive case count is increasing again and has numbers we haven't seen in the last 2.5 months and the 7 day average is up again. As usual, about 20% of the cases for the whole province are from Toronto and about 80% of them are in the greater Toronto area of surrounding cities included.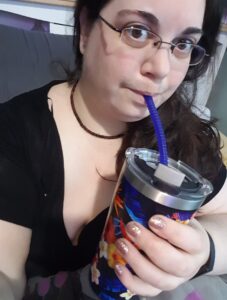 My Color Street launch party is wrapping up this weekend.  I've been having so much fun sharing info about all the things and playing some games.  I'm super impressed with how these are holding up.  You can see in this pic where I'm hydrating that I'm on day 9 of this mani and it still looks perfect.  I'm excited with the orders I've gotten and I can't wait to see all the pictures of them applied.  I'm always curious what others choose for their mixed manicures as they create their personal style. All the participation in my group has been fantastic and everyone seems pretty excited to be learning about them and to try samples.  Someone even asked to be my first hostess to earn some free sheets for herself! You all know me – I've been doing the pretty nail thing for 6 years now.  Different companies and different products between those companies.  Most of them more sticker like.  These are so different because they're actually polish that's 95% dry already and just needs the air to cure that last 5% to your nails.  I have zero lifting at the tips the way that would sometimes happen with the other companies and that's because these are actually curing/drying to your nail the way bottled nail polish would instead of being an adhesive.
I got to play some Heroclix this weekend.  The kiddo and I played some sealed and it was so fun! He beat me this time – but I'm not surprised.  He had both on dial prob as well as a theme team and I had no re-rolls – so it was really hard for me to have any successful rolls stick.  Not to mention my 3 crit misses on top of it.  At least one of them happened when I mind controlled and it was his figure that took the damage!
Even though I'm only about 5 weeks in, I've decided to move on to the next set in the yoga program – just using the chair as support instead of working out while sitting.  Each program is set up as 13 weeks, but I'm realizing I'm stronger than I thought I was – so I may just do this a few days and move on to the regular beginner one and use what I'm learning here to modify the places I need to. It's really just things that have to do with the knees that I need to modify – like lunges or anything kneeling. I discovered that I can do the rest of it unassisted and that made me feel awesome!  So I think I'll stick with the chair assisted at least this week as I get to know the modifications I can do and decide from there. I did need the chair a little bit for some wobbling – but I know as I get stronger and more used to the moves that it'll get to the point I don't need that support.
I'm also still walking every day after work and choosing to be a little more relaxing on the weekend. I'm also super proud of myself for this.  It's been SO hot and humid but I haven't let that stop me, not even 1 day.  I'm now getting over 6k steps and closer to 7k.  The distance is also getting easier for me.  Just a 5 weeks ago when I started this, my lower back/knees/ankles were getting so tight and sore that I needed to stop 4-5 times along my route to sit on a bench for 2 minutes to let that stiffness subside (thank goodness for bus stops with benches on my route!). I'm now walking that same distance but only needing to stop once, if at all!  It's incredible how much consistency and not giving up does for getting better.
As much as I'm trying to focus on these positives and the good stuff happening in my life, I'm still struggling with anxiety some this week. I keep feeling like I'm missing something that I should be remembering or that I'm doing something wrong – but I can't put my finger on it to know what it is.  This has been a ongoing feeling I've had for at least a year… maybe longer. I wish I could know what it is because it's always easier to face and deal with when there's a reason.  I'm so grateful for the CBD I've started taking to help my mind settle enough to at least be able to fall asleep and not stay up for hours past bedtime.
Thanks for reading along on my journey of getting healthy both physically and mentally and my highlight recounts of the week.
Until next time, xoxo