Happy Thanksgiving Canadian friends. We just had a really quiet Sunday and did chicken (we're not crazy for turkey here) with string beans, sweet potato and cranberry sauce with pumpkin pie for dessert. I'm working Monday, so it was better to just get it all done today instead.

Saturday I had an appointment to get my blood drawn for the clinic doctor to investigate further on my low iron. The whole process there was terrible. I had a 1pm appointment but didn't get seen until almost 2. I had to wait 4 different times! 1st in the registration line outside, then in another outside line to be called inside, then in the waiting room and then in the cubicle. What made it even worse was it started to rain! I'm grateful that my dad drove me and he loaned me his jacket to drape over me.  They really need a better process or to not over-book so much.  It felt like no point having made an appointment and more like a walk-in.

I'm looking forward to the appointment with the doctor on Thursday to go over the results. I have the Dynacare app and can already see a bunch of levels way off and of course, I'm not a doctor so I have no idea what it all means. I just hope it's nothing more serious than just the low iron. I know he ordered a bunch of tests to make sure that it isn't something more rare because of how low my levels are.

More health stuff this week because it was also a therapy week. I know I say this every time, but my goodness did I ever need it.  So much in the last month to let out and talk through. With how high my anxiety has been the last while, it feels good to have that outsider perspective on things and that sound voice of taking a step back and making the observations of things out of my control or positives I've pulled from it. 
Physically I'm not in pain anymore, but the antibiotics sure did a number on my insides.  My bowels are so out of whack and I can't wait for everything to be back to normal.  I know that it'll still be a while as I now start on iron pills and I know those can continue to mess with my insides too – so we'll see how it all ends up shaking out.  I almost needed to call in sick at work one day because it was so bad, but I pushed through and went in because we had all kinds of trainings all last week for a new system and there is SO much to learn with it. 
I haven't yet started back on the yoga but I am back to getting my step count back up to where I was before I got sick.  Just still listening to my body and taking it slow so I don't over-do it.  I do miss doing it, I just don't want to push myself too hard when I'm still not 100%.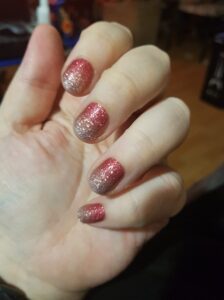 Finally felt up to changing my manicure this week.  I had left it so long when I was sick and didn't feel up to doing anything – so it feels great to have a fresh mani again.  This one is Coral Bay and looks perfect for autumn.  I'll probably change them again soon to be something more towards Halloween. 
I'm feeling good about getting a few chores done.  I keep putting stuff off and felt motivated this weekend.  You see, I had to get up early on Saturday because I had a tech coming to look at the hot water tank. When I got home from work Friday, I discovered that the hot water tank wasn't heating and it turned out that it was a locked out error code. So seeing as I was up early and I woke with some motivation and did laundry, including my bedding.  I also ended up decluttering a corner and got rid of a whole bag of stuff. 
That's it from me this week.  I hope you're all doing well out there. 
Until next time, xoxo