These weeks feel like they're pretty similar with not much new or exciting happening, then I come and write and it all just flows and I'm surprised with how much I end up having to say.

In terms of the pandemic, it feels like things are finally slowing. The hospitalizations keep declining and we're not hearing tons of info about COVID anymore. As of March 1st, a lot of the restrictions are lifting and pretty much it's mainly just mask mandates still in place. No more showing vaccine passports and no more capacity restrictions.
I ended up finding a new cell phone. This time I went for new in box and from a store and not online, so if I have an issue, I don't have to deal with shipping again. I decided to go with the Samsung A52. I was seeing it in the $550-$650 range and found a store that's only a 20 minute walk from my work that had it on sale for $420. I got there and ask to see it and notice the price tag was $650. I mention that it was on sale online and he told me to look it up to show him. He found it on his laptop the same time as I pulled it up. He looked over to who I assume is the owner as they had a quiet conversation that I couldn't hear. After a few minutes, the sales rep looks back at me and nods that they'll do that price. Good! I wouldn't have gotten it if they weren't going to honor it as I could have ordered it online from them and gotten it. I've had it about 2 weeks now and so far so good, knock on wood. I'm still playing with it to get it how I want it – noises, volumes, apps, backgrounds, etc. 

I got to play in a Heroclix release sealed event last Sunday and that was fun. I didn't take notes of what I played or faced, but I ended up going 2-1 and coming in 2nd. We had 2 players who I'd never met before come out too, which was awesome. I always love meeting new clix players and even got to face one of them. I also picked up my case. The kiddo and I built teams out of it all to play sealed, but we haven't played any of the games out yet. My work days have been long and crazy. Hopefully this week we'll get to play some out. It was a good case overall though! I got chase Spider-Man and super rare prime Gamora. 

Had a great therapy session this week. Really needed to unpack some emotions around not feeling good enough. It's so hard not letting the racing thought take over. Even though I can realistically look at the situation and know that everything will be okay and that it's okay to be human and not be perfect, it still causes so much anxiety in the moment.

I'm finding myself really needing more alone time lately. Feeling so stuck and trapped and just wanting quiet and relaxation. I do what I can to get some (like going up early for baths or staying up in my room on days off or extending my after work walks) but it just doesn't feel like enough. Speaking of those walks, I'm really enjoying them. Listening to music, repeating my mantras, moving my body, getting fresh air and sunshine and really just embracing that alone time.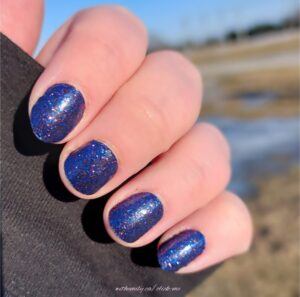 The side biz is going well with engagement in my group but a little slower for sales this month. I'm still a little bit off from getting active, but I still have time – the month isn't yet over, and I'm almost there! I have confidence I'll get there. I'm loving the mani I have on this week, but it's almost time to change it as it's growing out. I had a great power hour this weekend while watching Love Is Blind of Netflix too. I got a bunch of mail ready to go out – thank you cards, prizes from a party and in stock orders. I also re-stocked the sample box for my purse. It was almost empty and needed refilling. It's a bit of an assembly line to put them together, so I like to do it in big batches. I get complimented on my nails so often when out that I go through them fairly quickly. 
I ended out the week with a dinner with my girlfriend. I've SO missed this! Pre-pandemic, we used to go about once a month. I think we've gone about 3 times in the last 2 years. Time out with friends is so vital to keeping me sane. It's a safe space to vent and let my deep thoughts out. It's also so much easier to catch up and share what's been going on. Most times it's just too much to type out with all the detail a conversation can have. I don't know about you, but I'm not much of a phone person, so it's usually typing. I'm so glad the world is opening again and we can get back to our regular catch up sessions. 
I haven't been doing the greatest with my food choices, but also not the worst. I'm getting produce and including that multiple times a day, but I'm also including more snack/junk type stuff than I'd prefer. I've just been having so many cravings and feeling for mindless snacking. I am doing some minor changes like popcorn instead of chips, but it's still more than I'd like to be doing. I was really craving chocolate last week and instead of grabbing something from the store, I actually baked chocolate chip cookies. Better to make just a batch and share with the family instead of hiding away a package from the store. I also really need to focus on my water and hydration. I can feel that I'm not having enough and also see it in my skin, especially my cuticles and feet. 
Lastly, I've been doing some shopping to refresh some of my clothing. With being home so much in the last 2 years, I really didn't upgrade or replace anything and I am starting to feel the effects of things not being optimal. I've got some new pajamas, socks, work pants and sweaters coming. I got new running shoes too and oh man! am I ever feeling the difference of new shoes that are supporting my feet so much better. I can't wait until the weather is good enough that I can wear them every day. 
That's me these last few weeks. 
Until next time, xoxo