This year Heroclix Worlds tournament was held at PAX Unplugged in Philadelphia. Our group from Canada went down in 2 full cars and had a nice Airbnb to share that was walking distance to the convention. I was in the car with Tom, Devin and Jay. The other car was Jason, Amber, Steve and Aja. Car conversations are always my favorite. We always talk heroclix for hours, coming up with crazy combos and new ideas, listen to a big variety of music and we also get to know each other better and end up being closer friends. I also end up learning about comic related things because the conversation usually leans that way and we all know that I've never picked up a comic before, so I'm usually a silent listener for those parts.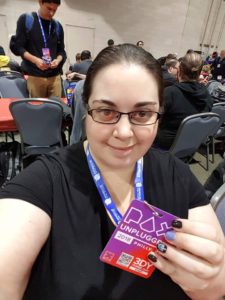 We left Toronto early Thursday morning and made it to Philly in time that we could pick up our badges from the convention center. While there we found Kennie so Jay could get his badge for demoing and found out they needed some help moving boxes from one floor to the other, so we helped with that. I felt a little useless because my knee went out on me again on the first trip down, so I had to take it easy. When done there, we found our way over to the Airbnb to wait for the other car to arrive so we could find dinner together. We found a little brewery that was a close walk, and spoiler, we ended up there every night of the trip because we all enjoyed it so much and it was so convenient.
Friday was the day for Team Worlds. Amber, Aja and myself were team Calm Your Clix. Tom, Jason and Steve were team Sorry Eh? Devin teamed up with two friends of Jay, Richard and Joseph. Unfortunately, I can't do my usual breakdown of game by game because the SD card in my phone randomly stopped being recognized and I've lost everything that was on it, including pics of my team and build sheets of my opponents. I have the worst memory, so being able to look back at the build sheets helps jog my memory. The only things I remember are: My team was chase Agamotto and 2 common Iron Man for an Avengers theme team. I went 2-2, Amber went 3-1 and Aja went 1-3. We played one of our rounds against an Italian team that flew in from Italy, which was really cool. We ended up in 30th place, which is better than we did last year in 32nd place and we got prizing of all the ID cards. Team Sorry Eh? ended up coming in top 4, only getting knocked out by the team that Devin was on and his team ended up winning the whole thing! Thank goodness Tom had the truck so there was more than enough room to bring all the prizing back! After our team was knocked out of swiss rounds, I wanted to go play in a battle royal, but unfortunately the cut off had already passed for signing up. This was also when they were doing the last chance qualifier, which I was happy to not have to participate in because I was already qualified to play in Worlds from placing top 8 in Canadian Nationals. As I said in the spoiler earlier, we went to the same place for dinner. I didn't eat much because I wasn't feeling too well. I think something I ate previous wasn't sitting well with me because I was feeling nauseous and I really hoped I wasn't getting sick. I had so much trouble falling asleep because of it and around 5:30 in the morning I ended up puking (I know, TMI!) I did feel way better after I did though and got a couple hours of proper sleep and woke in the morning feeling like myself again.
Saturday was Worlds. I really wish I could recover my SD card so I would have the builds to remember what I faced – but at least I can find the name of my opponent and the final score on the WIN. I was playing my Sam Cap team that I played in the WKO that I won and played at Canadian Nationals and the . Because of time, we were only playing 4 rounds of Swiss with a cut to top 16. I know I'm not alone in feeling like there should have been more rounds, but it is what it is. This means one needed to go undefeated to make the cut, or have REALLY high points as a 3-1. I went 1-3. I knew after losing 2 rounds that I had zero chance at making the cut, but I was there to play so I played all 4 rounds of Swiss. Notable moments that I can remember without having my build sheet pictures. In round 1 I remember that my opponent put us on Arthurs Castle. Because I was an "in your face" team, I had moved right up for my alpha strike and was on the elevation 3 roof top closest to his starting area with most of my force. He called in a Cyclops to try and tank me up there. Made the successful attack and when he went to drop the tank, there were not enough legal squares to place my figures adjacent to it which made the attack worthless because decreasing your attack -1 and choosing to drop the tank is a "may" and the judge ruled that the attack basically just fizzles with not being able to place the figures after. It really threw him off his game. A few attack rolls that I missed and him getting most his other attacks, Zach won the game 223-89. Round 2 I lost 153-68. If I'm remembering correct James was playing a tweaked version of the Gotham team. Round 3 was against Stephen and he won 378-78. I'm at a complete blank on this one team wise other than mud men doing lots of quaking and boxing ring interaction questions because we both had boxing rings that were adjacent to each other and he was trying to close attack me from one ring to the other. But I do remember having lots of laughs and really enjoying our game. Round 4 I actually won! Chris was playing a Uni-mind build and I managed to pop him. I did something he wasn't expecting at all. I had gotten his Uni onto his last click and was based to him with my Clone Shredder. He brought in Lockjaw next to Clone and chose plasticity. Instead of just attacking with clone, I chose to call in Chamber who used Force Blast to knock Lockjaw away from me and then Chamber shot him with Psychic Blast to pop him and I was then able to Side Step with Clone to kill an eternal with the ping damage. It ended with a final score of 433-238. Again, I went over to try and sign up for a battle royal but sign ups had been cut off again. After re-reading this, I'm impressed with how much I actually remembered from my games! It's way more than I thought I'd have to write about.
Sunday. Not much was happening Heroclix wise today, except for battle royals. The other car got up a little earlier than our car so they could go to enjoy the convention before leaving after lunch to head home. The other half of us stuck around the Airbnb until almost check out time and then headed over to the convention center. We weren't in a rush because we had to wait for Jay to finish demoing. The guys went to enjoy the convention a little. I'm not into any other games so I just went up to check out the Troll and Toad booth to see if they had anything for sale that I was interested in. Found a Firestorm! Then I went back down and finally was able to sign up for and play in a couple battle royals. I had enough time to play in 2 of them before it was time for everything to be ending. As luck would have it, I ended up getting a 2nd Firestorm (thanks Devin!)
All in all, I enjoyed the weekend playing a game I love with people who I absolutely love being around. I can't wait until the next road trip adventure!
Until next time,
xoxo