Can you believe in 1 week that we've been in this pandemic for a full year?! Toronto is coming out of stay at home order on Monday, but going into grey lockdown still.  So what does this mean? It's very similar to what we're in now, except that all retail stores can open – not just essential ones – with reduced capacity.  Still only hang out with those from your own household, unless you're outdoors with 10 or less people and still social distancing with masks.  Still no salons, gyms or recreation – which means I'm still off work from the day job. I think I heard someone say that we've been in lockdown here for the last 100 days. 
It's been a fun Heroclix week.  The kiddo and I played the rest of our sealed games with the rest of the boosters and he's thinking of a team he wants to try playing now.  I've also signed up for the online charity event that Jay is running.  It's in support of suicide prevention in remembrance of a heroclix player who took his life.  For more info on either joining in to play in the tournament or to donate, check out the info here.  The kiddo also built a sealed team for the event for me to play against – that way I can get more familiar with my pieces before the event. I feel so out of touch, I definitely need the practice!
I had therapy this week. I'm so glad that I make notes to myself of things I want to bring up when we're between appointments. My memory is so bad (one of the reasons I love writing this blog, to look back and remember or keep a timeline of).  Some of my hard feelings I work through on my own just writing this blog by thinking about it when I'm not in the immediate strong feelings and then being able to pull positives from hard situations as I write.  There are other things that are more private that I don't touch on here but that I appreciate having a safe space to talk and work through things. This was one of those times that I was happy to have that space. It's also another place for me to stay accountable for the changes I want to make. I've got all sorts of places I do that and it's so helpful keeping it all in the forefront of my mind. 
I did average this week with my goals.  I didn't go out of my way to push myself or do extra, but I stayed within my calories, had produce every day, moved my body about half the days and even was middle of the road in terms of sleep.  Most days I got around 6 hours of sleep, but Friday night I slept amazing. I fell asleep at a normal time of about 12:30 and slept until about 10 and felt so rested and ready to take on the day.  It all derailed on Saturday when I had a rough night and didn't fall asleep until about 9am and had broken sleep that I kept waking from every hour until about noon. I hope that lack of sleep helps me fall asleep a little earlier tonight and get some better sleep.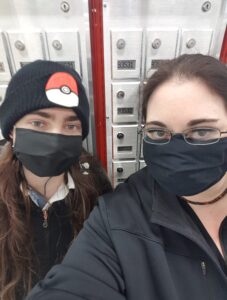 This week I got my first bulk order in for the side biz. That means I got to take a walk to the post office to mail off packages for those that ordered and get some sunshine along with it (with kiddo as company)!  In that order was also some stuff for myself of course – a new style of lash to try as well as some of the gel strips that just launched!  I put them on my nails on Tuesday and they still look perfect today.  They're better than any kind of nail strip that I've ever tried in the past.  They both look and feel amazing!  A lot of the issues I've had in the past aren't happening – no wrinkles, bubbles or lifting.  I haven't needed to go over them with a file for fraying.  I can't wait to see what they look like in a week! Now that I have everything in, I can start filming tutorials again, yay! I'm excited to start with that too. 
Here's to sticking to goals with an amazing week ahead. 
Until next time, xoxo