Well, here we are a whole year later. This week was a year since the COVID pandemic was announced and we went into our first lockdown. Now there are a few variants of the virus that are even more deadly and transmissible. I'm hearing phrases like third wave and another lockdown likely in the news. Vaccines are available but arriving so slowly that I'm still likely months away before it becomes available for my age group. I've been off work for 4 months so far in this 2nd lockdown – so even though they're talking about more lockdowns, because I'm in Toronto, we haven't left the 2nd lockdown we're still in yet. 
I signed up for charity Heroclix event and did some practice games with both the kiddo and a few friends. I have already played 2 of my 3 pod games.  I'm currently sitting at 1-1, so my 3rd game matters on if I make the cut or not.  I'm of course working on writing a full tournament report with my pulls, team and game breakdowns.  I'll post that up once I'm knocked out and finish it.  I will say though that I'm having a blast so far.  Between the games I'm playing and the games I'm watching and the conversations between and after the games – it feels really nice to feel social and connect with people.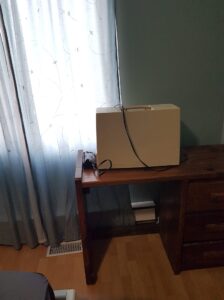 My mood has been pretty up and down this week.  On Tuesday I was really depressed and had trouble holding back tears. I spent most of the day in my room crying and not moving from my bed. I came down for dinner because I hadn't eaten all day and went up about 3 hours later because I couldn't handle being around anyone. As I was taking my vitamins before bed, I had a thought while taking my D3 that I'm really not getting a whole lot of sunshine because I'm really not leaving the house.  So I decided to rearrange my desk so it's under my window.  It's not an optimal position for the room, but it's better for my health to be able to open the curtains as I work and have the sun on my face. As the week went on, my mood did start to brighten – I'm sure part of that is that whole getting social thing I was talking about above.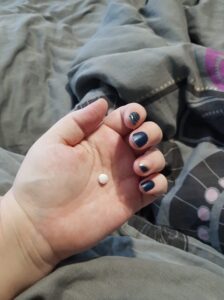 I haven't been doing that well on the movement this week.  I've done little bits of stuff but nothing super long or intentional.  It will be a focus for this week.  Same with water.  I am however doing well on the produce front and making sure I'm getting more of that in my body.  The sleep has been fairly lousy still. My kiddo had a bottle of melatonin and I asked him if I could take a few to try.  I did find that it helped me feel ready for sleep a little while after taking it and I woke feeling less groggy.  I want to be careful to not take it too often, just from what I've read about your body not making it itself if you have it too much. But on occasion – I'm definitely going to add it to my toolbox for days that the insomnia is bad. 
I've done a bunch of filming tutorials this week and have started uploading them to YouTube.  Speaking of YouTube, I'm trying to get to 100 subscribers so I can customize my URL to go along with my withemily branding.  If you have a YouTube account, I'd love a subscribe to help get me there if you haven't yet.  You can find my YouTube channel here. I got one of the blog posts written for the tutorial page here too and more of those will be coming as I get them done.  I have more ideas of things to film as well, so my channel soon will be full of helpful tips and tricks.  
I had a little bit of sad news this week – Canada launch is being delayed.  I was eager and excited to get going here and now I need to wait a little longer.  While I'm sad about it, I'm also happy.  Why? Because this means that it's going to be done right. No cutting corners and doing it without i's dotted and t's crossed.  This just means a new countdown and time to keep creating excitement and getting my socials all caught up. 
That's my world this week. I hope your 1 year COVID anniversary week was good and you're holding up out there. 
Until next time, xoxo