Here we are, another week down.  I can't believe how close to the end of the year it is! While at times it felt like time was going so slow, this last little while has just flown by. Really no change on the pandemic front this week.  Everything (case counts locally and mandates) is pretty much the same as it has been this last little while. 
I had therapy this week and I was really glad to have it.  My anxiety has been really strong the last few weeks.  Everything is just feeling so overwhelming. I'm of course doing what I can with my daily self care, but sometimes it's just not enough to help pull me out of it. Uncertainty, doubt and not feeling good enough are weighing so hard on me.  And it's crazy – because my rational mind KNOWS that I'm strong and capable.. but anxiety doesn't care about the rational mind and and likes to take over.  It does feel really good to just freely talk about what's pressing to me in the appointment and get great feedback – like reminding me that I can't change things that are out of my control. 

I'm so proud of myself for still being consistent with my after work walking.  I'm really enjoying the weather right now too.  It's been perfect sweater weather. Not too cold and not too hot. To think how far I've come from when I first started doing it is incredible. To have gone from needing to stop every few minutes and rest on a bench in the bus stops along the route to now being able to do it without stopping at all is amazing. Now, I sometimes even go an extra few stops before getting on the bus. All this walking and and tracking my calories to ensure a deficit each day has also helped drop a few pounds too. I'm down 24 and totally had a non scale victory this week. I was able to pull down my jeans without undoing them!  I didn't even realize I was doing it when I had to go pee really badly and it wasn't until I stood up to pull them back up that I realized it.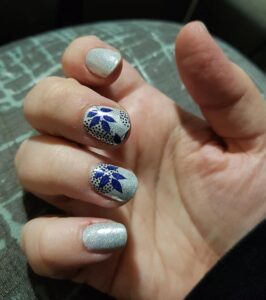 Another new mani this week.  This one is called Leaf It To Me. I didn't realize the silver has super fine holo glitter in it – making it even prettier that I thought it was going to be. 
I'm having a blast getting set up for an online vendor event that I'm a part of for this coming week.  I've been busy this weekend making a list of what I want to post about and making graphics to share throughout the event.  Fingers crossed for some new connections and meeting some amazing people.  I'm always amazed at how many people have never heard of Color Street and I'm happy to help teach them all about it. Pretty nails with no dry time that I can do easily in 10 minutes?  Yes please!  And see that nail art design on this one I'm wearing?  Can you imagine trying to do that with liquid polish?  I'm not that talented and it would take forever! 
We had the pleasure of daylight savings this weekend. I spent the extra hour getting some extra sleep today. My body woke me at my normal work wake time to use the bathroom but I was able to fall back to sleep.  I didn't have an alarm set and just let myself sleep until I woke and it felt great to just let my body get the rest it needed. 
I saw there's going to be an online, not official, Heroclix Worlds tournament next month.  I really want to participate but I need to figure out a team to play and then practice.  I feel so out of touch with the current meta game. 
This really felt like a pretty quiet week otherwise.  Just a whole lot of work and trying to keep my mental health in check.  A friend invited me over this weekend and I really wanted to, but I just didn't feel up to getting dressed and leaving the house.  Hopefully sometime soon I'll hang out with him. 
That's me this week.  Talk soon friends!
Until next time, xoxo