Well, here we are, back in lockdown again. We're back to stage 2 again and it's supposed to last 3 weeks. I have a feeling it's going to get extended and go longer, but that's just a guess of course. The hospitals have cancelled surgeries again and the city said they're preparing for half the workforce to be isolating at any given time. I read a headline about no available ambulances Saturday night because of lack of staffing.  They're also lowering the energy rates back to the lowest rate for the whole day again, like they did early on in the pandemic with the first lockdown. They're not starting it until the 18th though and it's supposed to be for 3 weeks. 

Because of this current lockdown, my work is closed. As always, being in the bingo/casino industry, we're the first to close and last to open as it's definitely not an essential business. Last time I was temporarily laid off right away, but this time I get to stay on and work from home for these 3 weeks. There's so much to get caught up on, so I'm happy to get to get it all caught up and not be way behind when we reopen. In order to do it, I had to clear space at the kitchen table. It usually only used as storage and Heroclix playing area. 
Speaking of Heroclix, my Empyre order finally shipped! That means the one back-ordered item is finally in stock. I actually got impatient and emailed asking if I could split the order earlier this week and was told that it was showing in the warehouse and they'd have it at the shop soon, so I just waited. I can't wait for it to arrive and play some sealed with the kiddo! I also played a practice game on roll20 to get myself familiar with my team again because it has been a few months since I've played anything. There's a charity event next week that I'm thinking of joining in on, so figured I should get a few games in before I decide. 
Now that I'm home, I'm trying to book my booster shot. I've got my name on a few waiting lists that are local to me and hopefully will get an email for a spot while I'm off here in the lockdown. The previous shots all made me so tired, so it'll be better to get while I'm home and have the option of resting a little. I also looked into finding a family doctor. Turns out I'm still listed as having a family doctor with the doctor I saw a few years ago, who wasn't there anymore when I last went to make an appointment. And when I looked her up further, I found that her license was expired? So now I get to make some phone calls to get myself unattached from her so I can actually find someone new. 

I splurged on myself this week and got myself a new phone! It took quite a while for it to actually be delivered (ordered on the 30th and it arrived on the 7th) even though it showed as being picked up the 31st and on a truck for delivery, but then just sat there for 5 days before it got scanned again and actually delivered. It was only coming from a town about an hour away too! But at least it got here. So I spent a lot of the weekend setting it all up and getting used to it. It feels much bigger than my last one, so that's taking some getting used to. It also doesn't have a notification light and I'm missing that. Everything else is really good though. There's so much more memory in it, it's faster and the battery is so much better than my old phone. I went from a Samsung Galaxy 7 to a Samsung A32. 

This weekend has been big on movies. Friday night the kiddo and I watched The Hitman's Bodyguard. Saturday I watched Encanto by myself. I went up to bed early because I just wanted to relax and wanted something easy to watch. It was really cute! Sunday the kiddo and I watched Free Guy. 

This week I had a really sore back. So this meant a whole lot less movement for me this week. I could barely move without pain, so I skipped yoga for most the week. I did still walk after work some days though. I did skip one day that it was REALLY cold and I skipped another day when I had to take an Uber home from work with all the stuff I need for working from home. I needed to take Naproxen or a muscle relaxer most days this week just to keep functioning and going in to work. Thankfully, as we're ending the week here, I'm feeling almost completely better and plan to start back with the yoga again tomorrow morning before work. I really need to figure out a way to motivate myself to get out and walk with being home. I really struggle with the hurdle of leaving the house when I don't have a purpose for going. I may bring that up in therapy tomorrow to brainstorm it out.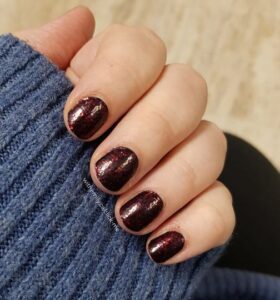 New year, new mani! This one was really difficult to capture the sparkle of. It's called Russian Around and it's a black background with a red sparkle over it. In person, I can really see the red sparkle but it's difficult to really see it in the photo. This week I've spent a bunch of time making graphics for a winter/new year party that will be starting in about a week. I have about half the graphics made. I like trying to make my own graphics so they're unique to me and my style of partying. I plan to invite my lady who joined under me in November so she can get some ideas to use for a launch when she's ready to do it, as well as inviting another lady who's thinking of joining. 
That's me this week! 
Until next time, xoxo