I was watching the news the other day and I heard them talking about being in the 6th wave now and also another variant they're watching along with the "stealth" variant they've been watching a while now. I'm glad that there are still a lot of places requiring masking even though the mandate is lifted and even where they're not requiring it, I'm noticing a lot of people still just doing it.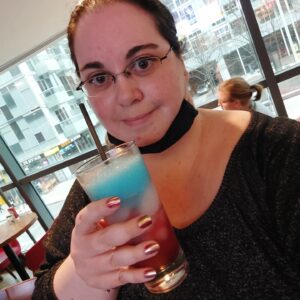 One such place still requiring masks is the theater. Not the movies, actual people on a stage theater. They were enforcing it too in the theater and they also still checked vaccine passports along with ID to confirm that it really was yours. Last week I took myself on a date night – yes, solo – and took myself out to Boston Pizza for dinner (got the chicken parm with mashed potatoes instead of pasta and it was EXACTLY what I was wanting) and a drink (I asked the bartender to surprise me with something fruity and sweet and he didn't disappoint!). Then I walked over to the theater and watched Room. It was really well done on the stage. I'd seen the movie and knew it was a heavy topic going into it. The understudy for Ma did fantastic. I felt it in my core when she was acting anxious, especially in act 2. 
Renovation work is finally progressing on my front porch. Once it was all demo'd, we realized that the way it was previously done wasn't very safe. There wasn't concrete holding it all up – only 1 corner. So that's being rectified. There's also some erosion that was showing on the foundation so I opted to have the front dug down, tarred and wrapped to be sure no basement leaks in the front in the next few years. I'd hate to have to destroy the work I'm getting done with a new front mudroom if the basement leaks. So getting it done right the first time. So that is all finally done now and actually building can start.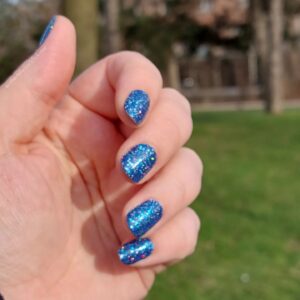 Feeling proud of myself for finally taking pictures of stuff and listing them for sale. Only a few things have been claimed so far, but it's nice to have some stuff leaving the house and even making a few bucks in the process. I'm also getting to network with them, which is awesome. It's always so hard to meet new people as an adult. So far everyone has said yes to allowing me to add a Color Street sample into the package I'm sending them. Speaking of Color Street, I did a new mani this week and I absolutely love it. I'm just sad that it's already sold out online and I can't buy another one. Especially because it's a charity strip that's supporting the prevention of child abuse. The sparkle on it is gorgeous and I can't stop staring at it. I'm still slowly getting ready for the in person vendor even that I got a spot at the end of May. This week I grabbed some picture frames to make some signs, clipboards to make collecting information for the draw I'll run and looked through my old biz stuff to see what I had that could also be used and not have to re-purchase stuff. 
I finally found a new family doctor! I put my name on the list with Healthcare Connect and got a call a few weeks ago. They had a few possibilities for me. A male doctor that is about a 15 minute walk from my house or a female doctor that is 2 short bus rides away but equal distance to both my work and my home. The female doctor had listed in her profile that she's comfortable with mental health issues and the male did not, so I ended up choosing her for that reason. This last week I had my intake appointment with her on the phone. She took a history and set me up with blood tests to get before I see her for a physical in a few weeks. I'm glad to be getting the iron levels checked again to see where it's at so she can let me know if I should continue taking the iron supplements or if it's time to cut back. She's also doing a bunch of other tests to check where different levels are at.  
My anxiety has still been pretty high these last few weeks. Sleep has been fairly difficult too. I'm glad that I've had the weekends off with no plans to get caught up on sleep and just resting my body. I turn off the alarm and just let myself sleep. I've needed to use my CBD vape a few times these last few weeks and I'm glad I had that available to use. I haven't needed to use it much the last few months until these last few weeks.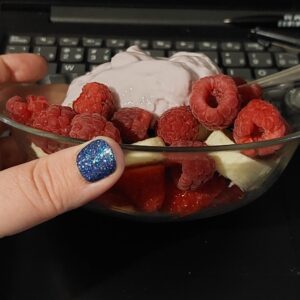 I've really been enjoying fresh fruit and it's been great having it as a healthy snack at work. Speaking of work, I've had to work some really long days and I'm glad I was prepared with some roasted almonds in a container in my desk. It's come in handy to have some quick protein with them, instead of resorting to some junk or fried stuff at work. The long days are getting exhausting and I just can't wait until I feel caught up. I'm getting there slowly – so hopefully it happens soon! But back to the fruit – this breakfast I had this weekend totally hit the spot. So fresh and bright.
I'm still walking almost every day after work. The only day's I haven't been doing it is the day's that I'm doing 12 hours and just want to get home. Hopefully there won't be too many more of those days and the person I'm training will be good to go on their own soon. I felt super proud this weekend when I walked to the post office and grocery store, my brother joined me. He noted that the pace I was walking was faster than I used to. That made me feel awesome that the work I'm doing is improving! 
I ended the weekend with a bunch of Heroclix. Saturday while I was relaxing, I was watching streamed games of a big event that was going on. There were actually lots of events this weekend happening, but none local to me. I'm so glad that there were some games being streamed that I could watch. It helps to stay in touch with what's being played, how the teams work and what their gimmicks are. Sunday my kiddo and I played our last sealed game from the case we opened a while back. He totally kicked my butt with this one, but I put up a fight. We were both down to 1 figure each in the end and he got lucky with a successful willpower roll to untoken his double tokened figure to finish me off. 
That's me this week (well at least what I can remember over the last 2 weeks that I wanted to share – I totally forgot to take notes so it's likely I forgot to mention something)!
Until next time, xoxo