Well, my little glimmer of hope got crushed this week. Now I get to continue looking again. You see, I got an email on Monday that on Thursday there would be a pop up vaccine clinic for my postal code because it's in a hot spot area. The pop up clinic was opening at 9 and we showed up just after 7 to be in line early – but the line was already huge! Within about 15 minutes of getting there, security came by and told everyone past a certain point to go home because they wouldn't have enough for us.  I would guess a few hundred were turned away and it wasn't even open yet. We should have gone earlier. I'm surprised at how many people were there because I hadn't seen it advertised at all.  The only reason I knew it was there is because I am on a mailing list for a politician. It's not one of the pop up clinics that was highlighted on the news and I didn't see it on social media. 
On Saturday afternoon I got another email about another location that had some available immediately for 18+ for my postal code and about 2 hours later another email saying that they were all taken.  Unfortunately, my phone sometimes doesn't give me notifications right away – especially for emails.  So a few hours after that, my phone went crazy with email notifications from the previous 6 hours so I didn't get the email in time to try and go.  This is definitely one of the times that it sucks that none of us drive. Although, with this stay at home order and my work still closed – I'm feeling confidant that I'll find one before my work opens again. I'm glad I'm getting these emails to let me know of the pop up clinics though because the communication of when and where they are is not the easiest to come by. 
I'm shocked to share that I had a good night of sleep!  Tuesday I felt tired and was asleep by 1:30 and I slept right through until 11. I haven't had a full nights sleep like that in weeks and it was so refreshing. I managed to fall asleep by 2 on Wednesday, but had to get up at 6 to go line up for the chance at that vaccine. As we're nearing the end of the week now, it's back to being really lousy. Friday night I didn't sleep at all until after 10am Saturday morning and only slept about 4 hours. Saturday was another good night of 2-10, but here we are Sunday and it's almost 3 and I'm wide awake.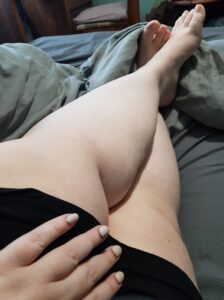 Some of my self care things this week was changing my bedding, shaving my legs for the first time since winter (don't be blinded by my paleness, lol – and the sheets felt SO soft on my legs), keeping up with the extra produce, lighting a candle, taking time to read and doing my daily plank challenge. Sunday night I felt to go for a walk and had stuff to drop in the mailbox so even though it was 1am, I went out for a walk while I felt to do so. 
I did something that I almost never do on Saturday. I had a mostly disconnected day. I only spent about 15 minutes on social media of any kind and that was mostly to reply to a few messages.  I didn't even post in my VIP group – which is something I almost never do.  I was just feeling overwhelmed and low mood with anxiety and needed to take a little step back.  I laid in bed for extra time, took a short nap, read a ton, did some knitting, put on a meditation and just connected with myself and goodness did I ever need that! 
This week just felt really lackluster.  The staying home and not seeing friends is really getting to me. I did have a great 3 way video chat with some girlfriends, which was amazing – but I'm missing that face to face and being able to hug and do things together. In my head I'm saying we'll be this way for another year just so I can be pleasantly surprised if it happens sooner that we're able to get together. 
Until next time, xoxo