The numbers are doubled again from last week for positive cases each day. We're now around the 10,000 mark daily. Right before the holidays, they reduced indoor gathering numbers from 25 to 10 and highly recommended to not gather. 
I know I showed the Christmas baking that I did last week, but I had so much royal icing leftover that I decided to do more baking to use it up. I didn't grab any pics of this batch, but I did a whole bunch of sugar cookies. I ended up with so much dessert that I brought some to work for coworkers, sent my dad home with some for everyone there and sent some with Zack to his friends house.  
Christmas was our usual traditions. We do things a little different than the norm. Years ago I started doing a Christmas Eve thing of inviting whoever wanted to come over for food, drinks and games. This year the only one who came was our dad and he brought us some treats from the Dutch store. We always do meatball subs in the crock pot as the meal – that way, it doesn't matter when people show up, they can just make their sub when they arrive. This means no set time of arrival needed and no one is stuck in the kitchen cooking, so we can all be social. We enjoyed our subs along with some chips, the baking I made and some rum with eggnog. Christmas day I treated everyone to McDonalds breakfast. I was feeling for their hashbrowns and they can only be ordered at breakfast – not available for all day breakfast. Didn't they forget to put the hashbrowns in the bag? Figures, right?! We spent the day in the living room just hanging out. My kiddo and brother played a co-operative video game and I watched. We ended the day with a prime rib roast dinner with mashed potatoes, carrots, green beans and gravy. None of us are big fans of turkey so this is what we do instead. We just spend the holidays spending time with each other and don't bother with gifts or tons of decorating. Everyone is adults now and buys what they want for themselves, so we just stopped with the gift giving a few years ago. It's really taken so much of the stressors and pressure out of the season. No expectations to live up to anything and just enjoy spending time together with yummy food.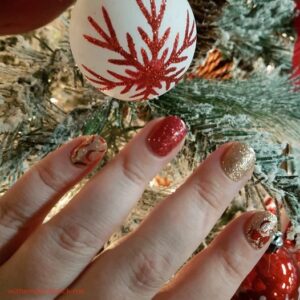 I couldn't resist another holiday manicure. This tree is the one at work – we didn't put one up this year. The only decoration I put up at home is a small 1ft clear acrylic tree that has multi-colour lights in it that cycles through the different colours. The tree at work was a perfect backdrop to take a picture of that mani though with all the matching colours on it. For this mani I used Winter Bow-mance with accent nails of Cran-tastic and Chelsea You Later and it turned out exactly as I was hoping it would look. A perfect combination. 
I'm feeling super proud of how consistent with yoga and walking I've been – even in the holiday season. I did my yoga 6 days and walked 5 days this week. But I have definitely been indulging in all the holiday treats around. Our holiday is so centered around food that it's hard to stay away from it. 
I'm still waiting on my Heroclix order. The most recent set dropped December 15 and it usually ships within a day or two but here we are the 26th and I still haven't gotten my tracking email. I know the shop doesn't ship until every item in the order is in stock. Everything I ordered was from the new set but it's certainly possible some of it didn't arrive yet. I was really hoping to have it for this weekend so the kiddo and I could play it for Christmas weekend when I actually had the whole weekend off (unlike the 1 day a week off that I've had lately with working 6 days a week). 
As we're coming up to the end of the year, I need to start thinking of what my new word of the year is going to be. I'm definitely going to reflect on this years word of Change when I write this week and reflect back on the last year. I've got a small list started of possible options to narrow down, but if you have any suggestions, I'd love to hear them. 
That's me this week. I hope you all had a fantastic holiday with your loved ones and were able to get through it as smooth and peaceful as possible. 
Until next time, xoxo