This weekend I was in Montreal with the crew to play in the 2019 Heroclix Canadian Nationals. My travel buddy for this trip was Mike and we thankfully had a nice and easy drive.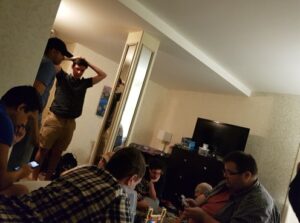 We got checked into our hotels then met up with the Jersey boys and went out for dinner.  That extended to a bunch of people in our room and getting some practice games in.
This is my 5th Canadian Nats that I've gone to. This year is the first year that I was already qualified to play, so I didn't have to worry about earning a spot in grinders and was able to relax and just enjoy playing without the pressure on Saturday.  I started with 2 battle royals that I came in last for both of them (with an Ultra Chase Thanos pulled in one of them!).  I was just playing to kill time as the prizing wasn't anything I needed because of a distributor error in sending last years prizing instead of this years prizing.  We chose after that to play in the first constructed grinder to practice our teams, see what the field is like and help open up more spots for people who weren't qualified. That evening we did dinner and just hung out.  Best decision ever for me to just go back to the room, have a bath and relax to be able to fall asleep early enough to get a good nights sleep.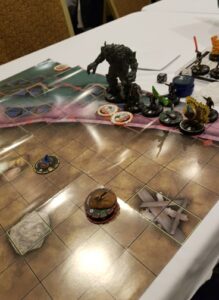 Sunday, the main event!  We got up early and went down to have our builds/sheets verified then went for breakfast.  I was playing a tweaked version of my Vulture team.  This version I added the Invisible Plane Terrain to help against Astronomer shenanigans and added a Bloodaxe as a backup equipment option. They did a great job of starting right at 10 like they wanted and put up the pairings.  Of course, my first round opponent was none other than the (spoiler) winner of the event, my team mate and one of my practice buddies, Devin.  He was playing Collector, Trader x2, Flora, Groot, Mangog, Pocket Tank and ID's.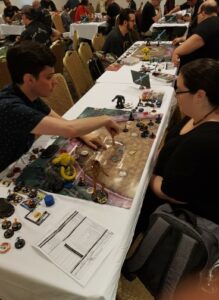 He won map and put us on the Metal Arena. He came up with Collector and stole my Octopus Arms. I equipped my Bloodaxe and Symbiote. He came in my face and traded my Bloodaxe for Space Gem with Trader. I called in Harley and perplexed up Vulture to 14/6. Misjudged clicks to KO with having the reducer, I should have running shot with Harley on Gardener before attacking with Vulture so it would have KO'd and then I could have hurt a Trader next.  Instead it just got him to regen and my Harley missed the attack to KO him.  He regened for 1 then hit me and stole energy with the Bloodaxe. He retaled with Groot on Vulture, I think he hit and then missed every other attack to finish him off that turn. I KO'd Groot and Mangog. He was able to get Vulture, all 3 Big Tonys, Groot and he was up on points when time was called. I lost, 126-53.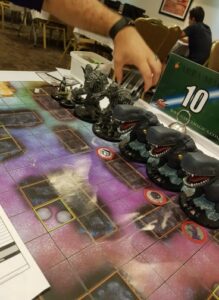 Round 2, another local and team mate, Jason C. who was playing Giganto and Namor x3, con Raven, Dr. Frankenstein x2, Groot x2. He of course won map and put us on the Underground Cavern. He debated back and forth on the decision to make Walking Woods or not and decided eventually on no. He perplexed up movement on 2 of the Whales and moved up all up all 3 whales to mid map. I equipped my Octopus Arms and Symbiote then perplexed up Vulture to a 21 defence and Sidestepped up Vulture, carrying Lockjaw and Sidestepped up Unseen.  I Sidestepped the Big Tonys into the back of the starting area so they would be out of range of the Quakes I knew were about to happen.  He moved up and Quakes with 2 Whales and missed both attacks. I picked Outwit with Lockjaw, not needing TK because he was so close to me.  I use both Lockjaw and Unseen Outwits on the 2 Whales Invincible. I use Big Tony's Perplex into 1 move 1 attack 1 damage.  Unseen calls in Harley for 2 more attack.  I found the exact positioning trail I needed to be able to KO the 2 Whales to be able to continue my charge back to the rest of his team and built up Charges on the Dr. Frankensteins and Groots so I had the ability to have the 3 attacks I would need to get through the last whale.  I won 300-5.
Round 3 was against Kenji.  This is actually our first time ever playing.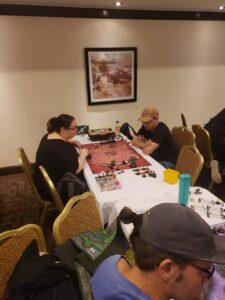 He's playing one of the matches I know I'll have to really work for if I want to win, undying.  His team was Daredevil, I.S.S.A.C., Lockjaw, Groot, Unseen, ID's. I actually won map. I chose Amok Time to help make barrier hiding a little harder. I equip and inch up. He Outwits my Charge.  I inch up more and pick Barrier with Lockjaw to hide behind.  I'm finally in strike range so I Perplex up Vulture and go for it.  I didn't finish making my notes here at the event, but going off memory, I started with Leslie Evans, who was closest and that got me over to I.S.S.A.C.  I think I crit missed on my first attack on him.  My 2nd attack of the Flurry put him to Stop, but I had no Charges built up to get attacks off.  He got my Vulture.  I got his Groot.  He got my Groot.  I got his I.S.S.A.C.  He TK'd the Octopus Arms that had dropped in an Object attack to get those 10 points. He got a Big Tony.  I was working on his Daredevil, knowing I needed 1 more main piece KO to win but only managed to get 2 of the Six tokens off of him when time was called. I lost 108-70. I know I need to win the next 2 now with lots of points to make the cut.
Round 4, another team mate, Amber. She's playing an Avengers team of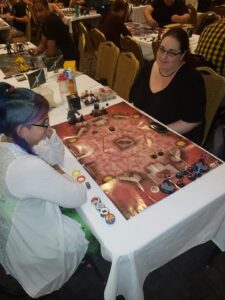 Medusa x3, Giant Girl x2, Voyager, AIM Red and AIM Blue. She wins map and puts us on Amok Time. She equips her 2 gems and moves up Medusas with Voyager to mid map. I do my usual equipping.  Medusa take out 2 Big Tonys and Hurt Vulture (which surprised me, I thought she was just going to take out the other Tony).  I call in Harley and Perplex attack and pick Perplex with Lockjaw and also Perplex attack and use the last Tony to get my damage to 3.  I am able, with my Flurries, to get all the Medusas and Voyager but I don't have enough movement to get back to the Giant Girls. She retals and misses. I Sidestep up and clear. She clears. I use the Tony to Perplex up Damage, call in Jean to TK Vulture close enough to get the Giant Girls and AIM guys finishing off her team and winning 300-38.  2-2 going into round 5.  I know that a couple 3-2's can make it so I need to sweep next round for a shot.
Round 5 is with Patricia.  We faced each other in the grinder yesterday and I got through her team quickly, so she knew better what to do against me today.  She's running Kobik, Trader, Unseen, Groot, Flora x2, Suited Henchmen, ID's. She wins map and puts us on Metal Arena. She called in Jean to get my Octopus Arms and moved everyone to the back of her starting area. I call TK and roll a 6 on Lockjaw. I risked the TK and equipped the Bloodaxe and Sidestep up everyone. She doesn't take the bait of Lockjaw on 6 and stays back. I sidestep up more, pick Prob with Lockjaw and roll another 6. She still stays back. I pick Prob again with Lockjaw and again, another 6.  I do more Sidestepping closer.  She keeps back.  I made a comment that I should be Sidestepping back and make her come to me because I'm technically winning by 3 points because she'd called in Jean.  But I also know that I need a win with a bunch of points if I want to try and make the cut, so I keep advancing. I'm now close enough to come up with Vulture. I think I get only the Groot and Suited Henchmen.  She is able to take out Vulture and some Big Tony's.  Time is called and I lost 85-33. This is the first game I've ever played with Lockjaw that he was on a 6 the whole game.  I couldn't roll anything but 6's with him!
All I can hope for now is to be in the top half overall for a Worlds Qualification seat.  There are 25 players, so that means 13 seats.  In the top 8, both Devin and Issac were already qualified, so that means it'll go down to seat 15.  My anticipation is building as they're calling out the names of everyone who is eligible for a seat and confirming if they need one or not.  Alex announces that this is the last seat and calls my name!  I squealed with excitement!  I had already bought the ticket for my flight last week so I was going for sure.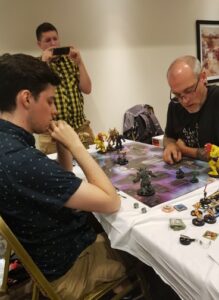 I stuck around to watch the top 8, top 4 and finals.  It was amazing to watch my team mates doing so well.  And to have 2 Canadians in the finals, we knew this was going to be the first year that a Canadian was FINALLY going to take home the title.  I'm so proud of these guys for how well they did and I'm grateful and thankful to be good friends and playtest buddies with them both. Congratulations again Devin for bringing it home!
Look out for my Summer WKO post coming next week after I play in my 2nd one this weekend and remember, you can always subscribe in the footer of the page so you'll get an email whenever I put up a new blog post.
Until next time, xoxo