How are you all holding up out there? I hope you're healthy and staying safe. I've had a week similar to the last, but I found a few more glimmers of happy. It all started with people receiving mail that I sent out as surprises – both samples just because and joke ID cards I sent to some Heroclix friends. I love sending surprise mail. 

I found a little motivation this week to get some stuff done that was on my list. I went live in my VIP group to unbox my latest orders (if you're not in my VIP group and want to check it out? Click here to join it). I also filmed 2 videos for my YouTube channel, which you can find here if you're not subscribed there yet. (Edit – these have been removed as I transition to a new company, but my VIP group is still there!)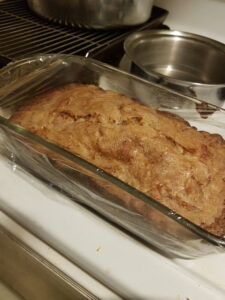 I baked more banana bread this week and it came out even better than the last one. I keep adding bananas to the grocery list and purposely don't finish my share of them so they can go brown for more baking.

Emotionally, I started and ended the week feeling numb and super unmotivated and not getting anything done or doing anything – not even turning on the TV or opening the laptop, just laying there not moving and nothing running through my head. I had a few days in the middle of the week though that I actually felt happy and at peace and that's when I found some motivation. I need to capture the moments that I do have energy so I can keep up this blog, tutorials, VIP group and reaching out to friends.  

I'm still working on my sleep issues as the insomnia is still really bad. I'm pretty much sleeping for 2-3 hours then up for 6-8 then sleeping for 2-3 again. I know nothing will work immediately, but I've upped my dose of magnesium in my vitamin regimen, I'm turning off electronics so I'm not distracted, reading a book and I've started making sure I'm moving every day. Back when Zack was little, I used to do these DVD's for walking by Leslie Sansone and I've discovered that she's got her workouts on YouTube – so I'm doing that every day now too, getting my body moving.
Speaking of reading – I found a link online for getting a digital library card to download books for free if you live in Toronto.  All you need is a 416/647 area code and you can get it.  It's valid until September without having to go into a library to prove your address.  I've already finished a book and will keep getting more. 

My new EI claim that I put in got approved! They moved me to the CERB, so I'll be getting that for up to 4 months so long as my work is still closed and if it goes on longer, then I have 18 weeks of EI that will kick in. I just need to move 20% of the CERB into a savings account – because unlike EI, CERB doesn't take any taxes off and I'll owe that on next years taxes.

This last week, it was also announced that the borders are remaining closed for an additional 30 days. This means my extra houseguest will be with us even longer. We all keep looking for suitable flights, but anything available has multiple long layovers and I understand not wanting to be in multiple airports for long lengths of time with all that's happening.
I still haven't left the house – just continuing to open the curtains for daylight.  Keeping myself busy when I have the energy by playing Animal Crossing, Pokemon Go from my bedroom and working on side biz stuff.  I did find my box of fabric in the basement from when I used to do more sewing/crafting, so I'm going to start looking up patterns for masks and will make some for the family when I feel up to it.  
That's about it in my world this week. 
Until next time, xoxo